Magick touch- LIVE IN POLAND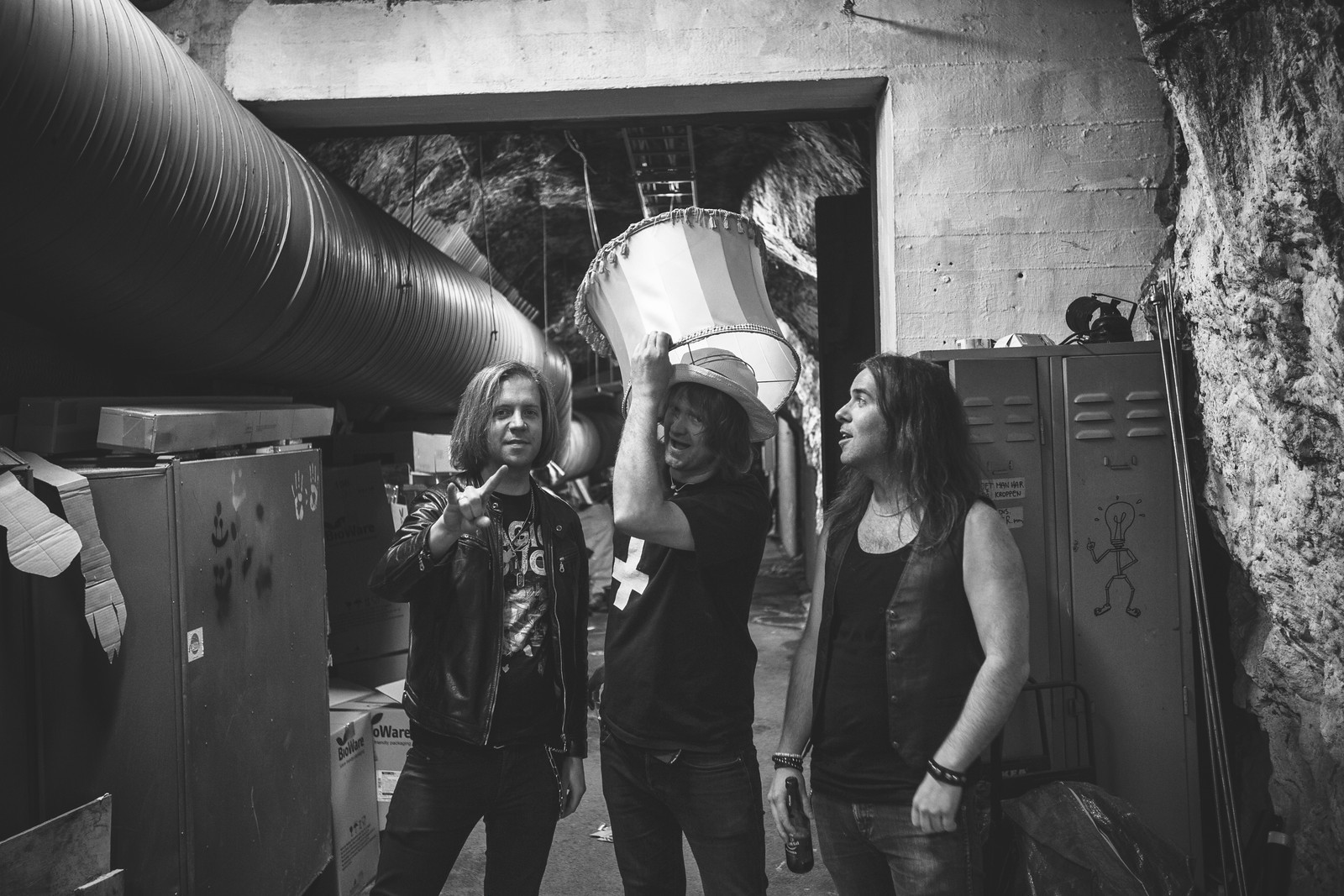 Regular readers know that I've always loved wild ass rock and roll and these Bergen based heavy metal maniacs only serve to add to that love. this power trio deliver uncompromising and very fun hard rock, roaring out of the speakers with a wonderful sense of swagger and the understanding that no matter what you do they simply don't give a fuck. they will beat your face in and remind you time and time again why you got involved in this music in the first place. With top notch concepts, powerful choruses and great execution this is an addictive listen.

"There is a certain sublime poetry to the songwriting here. the bluesy solos are warm and well delivered. The riffs have a rip roaring majesty that serves to make them strangely wholesome. But it's the choruses where the real money is. Multi layered, often shouted and gloriously fucking organic Blades, Chains, Whips and Fire is the sort of album that you are always going to want to sing along too. It's an album that comes at you a little bit over the top to be sure, but that's a key part of the appeal. You're not just listening to a band, you're sinking your teeth into something potent and beautiful.

I think there is something that will always appeal about a rock and roll record that appreciates the sheer simplicity and fun of the genre, that drives forward not because the band is trying to emulate old heroes but simply because it has to be this way, there is no other path forward. That's how I feel about Blades, Chains, Whips and Fire, it's a record that remains vibrant because it is organic and by being organic it reminds us time and time again what makes a rock and roll record such a valuable piece of art in the first place."
Schon wieder eine dieser vielgepriesenen, öchzigsten Bands, die den Classic Rock für sich entdeckt haben wollen und meinen, damit einen auf dicke Hose machen zu müssen, um am Ende in der Unbedeutsamkeit zu verschwinden. Denn mal ganz ehrlich: Ein lauter Furz macht noch lange keinen Donnerschlag.
Das waren also meine Gedanken, als mir die Platte zur Rezension in die Hände fiel. Doch schon das von Even Bøthun interessant gestaltete Cover sorgte für die nötige Neugier. Und auch die Ankündigung des Promoters weckte genügend Interesse, um der Scheibe ein Ohr zu gönnen, oder auch zwei: »Die Band bewegt sich zielsicher […] zwischen Metal und Hardrock…« und – mein Vorab-Fazit – das machen die Norweger doch recht ordentlich. Bereits mit dem Opener, "Under The Gun" hauen die drei Herren einen ordentlichen Kracher raus, der jedem (Noch)Hair Metal-Fan ein Grinsen ins Gesicht zaubert. Da haben wohl Mötley Crüe Pate gestanden.
Beim folgenden "The Great Escape" übernahm Thin Lizzys Phil Lynottganz eindeutig das Zepter, denn sowohl der Gesang als auch einige Riffs lassen Erinnerungen an selige Lynott-Zeiten wach werden.
"Midnite Sadusa", ich hab den Song mehrfach laufen lassen und bin zu der Überzeugung gekommen, hier hat man sich das nur all zu bekannte Riff aus Ted Nugents "Cat Scratch Fever" einfach mal geklaut. Bis jetzt bin ich von der Platte dennoch ziemlich beeindruckt.
Track vier haut mich zwar nicht unbedingt vom Hocker, gehört aber in die Kategorie 'reine Geschmackssache'. Ist eine knackige AOR-Nummer, von der man ohne weiteres behaupten kann, dass zumindest die heutigen Bon Jovi froh wären, solch eine Komposition noch mal auf die Reihe zu bekommen.
Na endlich, es kracht wieder aus allen Rohren, mit "Polonium Blues", wobei 'Blues' hier nicht sonderlich wörtlich zu nehmen ist, es handelt sich eher um eine steile Hard Rock-Nummer mit grummelndem Butler-Bass, jaulenden Gitarren und feinen Soliausflügen.
Sowohl "Siren Song" als auch "After The Fire" könnten ein Tribut an Dio sein, wecken zumindest Assoziationen, und "Lost With All Hands" liegt in der Schnittmenge zwischen Thin Lizzy und Maiden, hat aber die Düsternis von Alice Cooper zu "Brutal Planet"-Zeiten. Die Twin Gitarren-Harmonien sind im Solo unüberhörbar. "Electric Sorcery" plätschert etwas an mir vorbei, ist eher eine den 80ern 'entstiegene' 08/15-Melodic Rock-Nummer mit – für mich eindeutig – zu vielen »ooohhhhs«.
Aber dann wird das Ruder vollkommen rumgerissen, denn miit dem über sechsminütigen Titeltrack gibt es nun das absolute Highlight auf der Scheibe. Mit einem an "No Quarter"-Zeiten von Page und Plant erinnernden (orientalischen) Intro wird "Blades, Chains, Whips & Fire" eröffnet, um seine Fortsetzung in dem den Song "Kashmir" dominierenden Riff – welches Puff Daddy übrigens auch für "Come With Me" verwendete – zu finden. Unterschwellig sind fast über den gesamten Track hinweg orientalische Klänge zu hören, denen Robert Plant übrigens nach wie vor mit Hingabe frönt und die hier ebenfalls Akzente setzen.
Der Grund-Rhythmus des Stückes bleibt "Kashmir"-artig, um immer mal wieder Ausflüge in den Metal-Bereich zu unternehmen. So hat man einfach einen Mitgrölrefrain, ein paar Doublebass-Sequenzen und einen keifenden Vocal-Part eingeflochten und zeigt dem Hörer damit die Pommesgabel. Hut ab – clever gemacht!
Hiermit wird der eine oder andere, eher unspektakuläre Track auf der Scheibe wieder wettgemacht.
Die drei Bergener verstehen ihr Handwerk und lassen die 70er und 80er wieder aufleben. Ab und zu wird schon mal hemmungslos geklaut, aber das gekonnt. Ob das Ted Nugent jedoch genau so sieht, sei mal dahingestellt.
Nach dem Debüt "Electrick Sorcery" ist "Blades, Chains, Whips & Fire" übrigens ihr zweites Album.
Eine Frage erlaube ich mir aber noch: Wie wollt ihr diesen fetten Sound auch live umsetzen, Jungs?
Anspieltipps sind "Under The Gun", "Midnite Sadusa" und "Blades, Chains, Whips & Fire".
2018 kicks off with a bang as power trio Magick Touch from Norway deliver a loud opener with whipping guitars on "Under the Gun". Describing themselves as a "power trio with the emphasis on power from the southwestern coastal town of Bergen, Norway", guitarist/vocalist HK Rein, drummer Bård Nordvik, and bassist/vocalist Christer Ottesen produce music reminiscent of Dokken and Ratt. The solid second track "The Great Escape" continues that trend with a dual guitar sound perfect for overlaying solos. The first notes of "Midnite Sadusa" reminded me of a Judas Priestriff, but the cool bass line and great guitar work change the tone and create another winner, even with distorted guitars in the middle. Track 4 "Believe in Magick" softens the hard rock with its message of believing in your dreams. The vocals get pretty low – maybe a little out of Rein's comfortable range – but it's a nice transition into the variety of the middle of the album.
The songs have been short and sweet so far – the entire album of 10 songs is just 39 minutes – but "Polonium Blues" is a much different sound than we've heard so far. Being named after a metal on the Periodic Table, it's one of the heaviest songs on the album (pun intended), with fuzzy guitars, time changes, and minor harmonies. It's more Zakk Wylde than George Lynch with a ripping solo and bluesy groove, and it's definitely one of my favorites. "Siren Song" starts with some jungle drums and a slow build of the guitars to the main riff – the 80s are back! With its feel of urgency and the alternating guitar solos really putting this one over the top, this might be the best song on the album.
Not done yet, "Lost with All Hands" starts with a strong intro and a good, if subdued riff. The voices get distorted to give it yet another feel – for a collection of 3-4 minute songs, there is certainly enough variety to make the whole album fun to listen to! "After the Fire" brings a heavy, mid-tempo groove and clear vocals reminiscent again of Dokken. Moving into the final stretch, "Electrick Sorcery" starts with another drum and guitar intro, which leads to high energy melodic hard rock. The final tune is their epic 6+ minute title track, "Blades, Chains, Whips, and Fire". The guitars start with a Zeppelin-influenced Eastern riff, while the vocals are more Alice in Chains before it breaks into really heavy guitars and screaming vocals. The song is all over the place, and maybe a bit too ambitious, even if it has some good sections.
As a follow up to their 2016 debut, Electrick Sorcery (not to be confused with the song on THIS album), Blades, Chains, Whips and Fire is a successful album with the right combination of hard rock influences and great musicianship. Magick Touchhas also been tapped to tour this winter with Audrey Horne (who's new album releases next week) throughout Europe. It promises to be a big 2018!